We are Big Believers that Happiness is Homemade. Therefore it makes perfect sense that true Happiness starts at Home. Not only can Interior Design & Decor refresh your Home it also Clears the Mind, Opens the Heart & Comforts the Soul. You can have a home that is healthy, efficient and stylish.
Here are a few helpful hints in creating and embracing a Happy Home of your very own: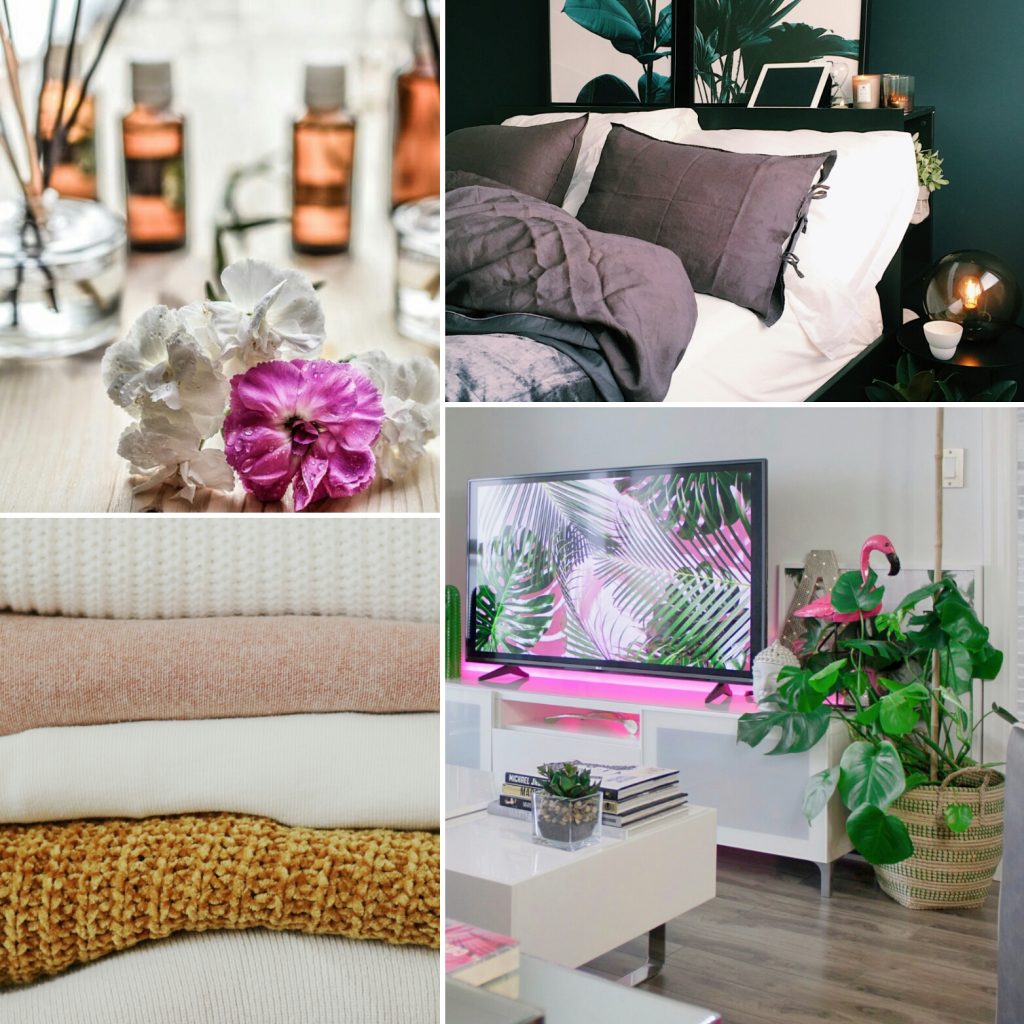 a) Declutter, Organise & Clean – This a must in preparing to create a Healthy Happy Home. Mess can create chaos and is not a positive environment to live and rest in. Utilise storage space including pull out multi-storage savers under beds, in cupboards and drawers to organise and hide items from everyday sight. Less clutter also prevents a build up of dust and other unpleasant habits that unsettle the home. You can still be surrounded with all the things you love by keeping them organised while on display.
b) A Little Nature Indoors – Improve your wellbeing & feel alive. Nature is also known to lower disease & ailments, including depression, anxiety & helps purify the air that you breathe. Indoor plants are a wonderful addition to any home and a little greenery calms and cleanses the home.
c) Good Flow and Space – A good open plan layout is efficient, practical and creates good flow. You can establish a focal point to gather around or relax ones gaze. Keep decor simple and spacious, making sure you and your guests can freely move around and in between furnishings with ease and comfort. A Mirror is a great way to create the illusion of depth or a brighter space. Rugs can define a space by sectioning off a floor area or add decoration to a large area. Feel free to research what makes good energy or Feng Shui in the home as this can provide order and a welcoming feel to your home.
d) Purest of Natural Light & Air Flow – Bring an abundance of natural light & fresh air into the home. Let your home soak up that beautiful sun as it boosts productivity, eases pain & resolves emotion. When the sun goes down you can also set the scene by layering some mood lighting with candles, lamps, dimmers or other lighting options.

e) A Colourful Life – Add colour to brighten and awaken your home. Certain colours & shades can help relax or energize you depending on the mood you wish to feel. Choose tones and colours that make you smile and feel good. There are definitely psychological effects that colours can have on you. Warm Colours such as Orange, Yellow or Red can evoke optimism, energy or appetite. Cool Colours such as Blue, Green or Purple are calming, soothing and spark creativity. Different shades of Blue is one of my favourites as it spiritual, tranquil, relaxing, fresh & reminds me of the ocean. Neutral Colours such as Grey, White, Browns or Black can create contrast or a great backdrop when using bright colours. What's your Happy Colour?

f) A Multi-Sensory Approach – Feel good & create memories by filling your home with pieces of art (Sight), certain fabrics & textures (Touch), burning candles, incense or aromatherapy oils (Smell), display a fruitful tasting plate or tea set (Taste) & soothing music or water features (Sound). And every now and again, go ahead and treat yourself to a bunch of fresh flowers to enjoy an array of senses all at once.