Dinner anyone? No matter what the occasion, you can create the perfect mood, atmosphere & experience when dining with friends, family or guests. Setting the Scene can be Simple and Inexpensive. Mix it up with a two-toned colour theme, jewels, flowers, candles and a dash of elegance and you are Dining in Style. Go subtle or bold, add some height or play with layers. Choose where to dine whether indoors or outdoors, the choice is yours. So here's how you can style up your dining table this Autumn, or anytime of year you desire.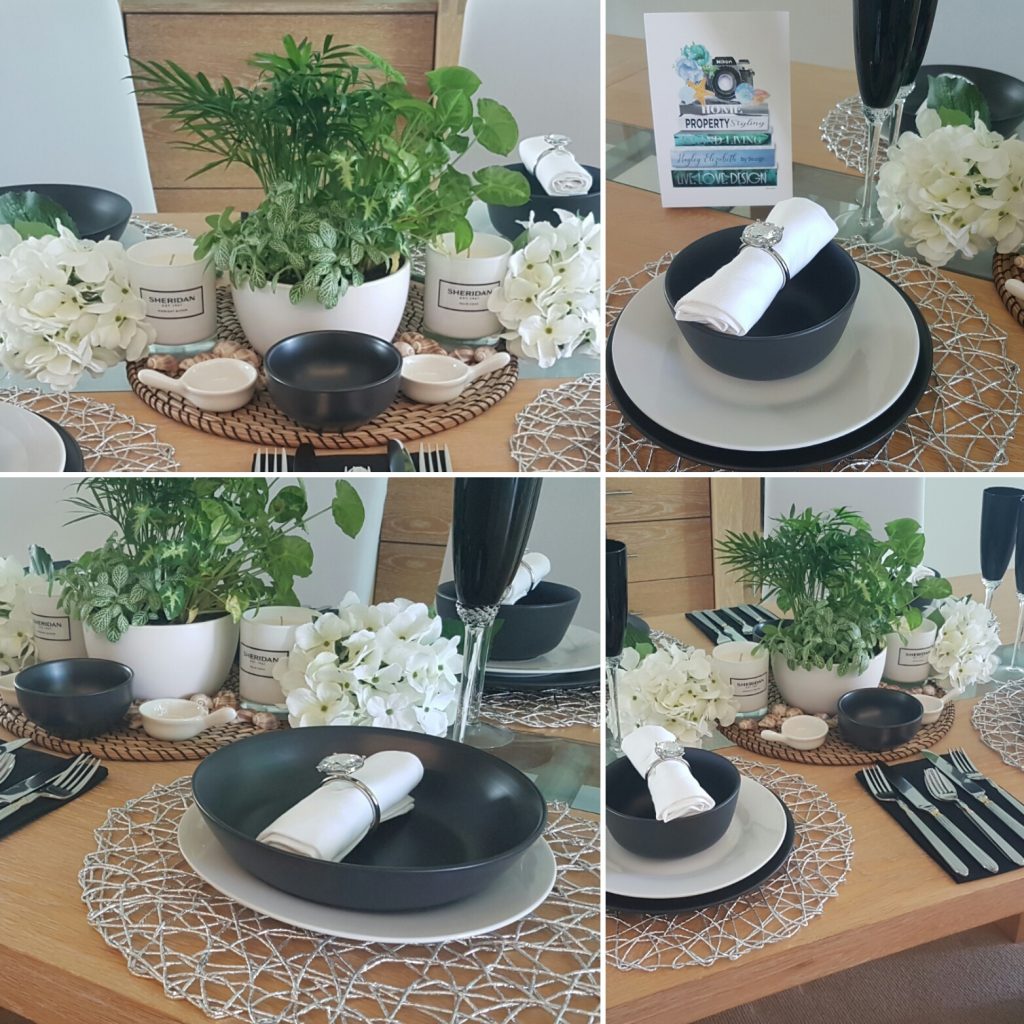 I maybe a massive fan of symmetrical settings, two-tone colours, scented candles & the layering of dinnerware however no matter your style or budget you can turn any table setting into a lush affair never to be forgotten, no matter the occasion.

1. Budget? Utilise items you already have at home such as candles, display items, personal keepsakes or memorabilia from other rooms. Check out what is outside your home like beach sand, interesting pebbles, shaped timber, seashells, colourful leaves & flowers. Get inspired by nature.

2. Choosing the Time & Mood. Day or Night. Cheerful or Romantic. This will help you with creating the right mood and colour palette to suit your design. Serve up an array of candlelight to give a warm & welcoming feel or display an array of bright & cheerful flowers to make your guests smile.

3. Keep it Seasonal. Whether its flowers, fruit or food you can save by utilising seasonal produce. And seasonal can be a particular choice of colour too. For a Winters Night start with a classic black & white decor, fresh white flowers with greenery, a touch of silver & finish with the subtle scent of vanilla peony candles for an absolute timeless evening.

4. Center of Attention! Be Creative with a personalised centerpiece as your talking & focus point. Whether it is a tall vase of Flowers or a display of candles or a tower of delicious food. Search online for some inspiration and samples.

5. Stack & Layer! Arrange your dinnerware from the largest dinner plate to the smallest bowl. Group together glasses or crystal with different heights. Compliment your setting with simple yet polished cutlery. Place placemats or napkins on the top or in between your dinnerware. Add a touch of glamour by rolling a napkin & sealing it with a jeweled ring.

6. Decorate! Adding the final touches will bring your dining experience together. Using natural materials, textures, flowers or soft scents give a light and airy feel. And finally remember to choose suitable music to compliment the mood & time of day you are holding your dining party.
Check out more photographs on our Instagram and Facebook Page.